Mid-year review 2023 - Bionics: Embracing a world on the mend
Ignited by a worldwide surge in procedures, fueled by a regulatory revolution, and driven by unwavering fundamental prowess, MedTech propels towards a future where innovation knows no bounds.
Bottom line
In the medical device industry, all growth indicators are flashing green. As patients resume their healthcare routines, a surge in procedure volumes is ignited, fueled by the combined forces of backlog reduction and innovation. Breaking free from the constraints of supply chain limitations, the sector prepares to unleash a tidal wave of revenue and profitability.
Behind the scenes, a transformative shift is underway. In the U.S., the largest market for medical devices, a regulatory overhaul looms on the horizon, promising nationwide Medicare coverage for groundbreaking technologies. This upcoming change will reshape the industry landscape and pave the way for future advancements.
Table of Contents
Portfolio snapshot
Bionics overview
Mini-invasive treatments & surgery
Artificial organs
Equipment & device
Monitoring device
Liquid Biopsy
Sequencing
In-Vitro Diagnostics
Medical imaging
Telemedicine
Care management solutions
Healthcare 3D printing
Transplant diagnostics
Genetic testing
Year's Favourites 2023 - an update
Catalysts / Risks
Portfolio Snapshot

Embracing a world on the mend
Higher (top-line growth) for longer
The initial six months of the year have provided a glimpse into the promising path of transformation that lies ahead for the MedTech industry. Notable advancements were observed in both revenues and margins within the industry. This positive trend can be attributed to the resumption of regular healthcare routines by patients and an improved staffing environment. As the industry addresses existing backlogs, some highly penetrated markets (such as the lowest-growth orthopedic sectors) have experienced rapid recovery and are expected to regain their pre-pandemic growth levels soon. Conversely, other indications (e.g., cardiovascular, cancer, neuro) display promising potential for sustained above-average growth over an extended period of time.
MedTech's quest for breakthrough coverage takes a promising step forward
After surpassing its self-imposed April deadline, The Centers for Medicare and Medicaid Services (CMS) has finally issued a long-awaited rule in June, poised to simplify the process of securing health insurance reimbursement for medical device manufacturers. The rule introduces a groundbreaking program called Transitional Coverage for Emerging Technologies (TCET), designed to expedite Medicare coverage for FDA-designated breakthrough devices. With TCET, early evidence review, guidance on coverage areas, and a target of finalizing coverage within six months of FDA clearance, the MedTech regulatory landscape stands to experience a profound impact. The public has 60 days to comment on the plan, and its final implementation remains a pivotal factor to closely monitor.
Preparing to sail through turbulent waters
Amidst economic downturns, the MedTech industry has proven its resilience. Nonetheless, device manufacturers are not impervious to potential pressures, including reduced hospital capital spending and currency fluctuations, which can impact company revenues. To prepare for these challenges, industry leaders in commoditized markets have initiated a series of divestments and spinoffs, strategically refocusing their efforts on higher-growth sectors that are more resilient. Specifically, they are revitalizing areas such as cardiovascular, cancer, and diabetes, which offer stability and numerous advantages (i.e., established reimbursement pathways, higher barriers to entry, and limited competition). In alignment with these market dynamics, our strategic investments are keenly focused on niche sectors that have the potential to thrive in any macro environment.

The mini-invasive gold rush
A call for innovation
The mini-invasive sector has become highly attractive to major MedTech giants seeking to strengthen their portfolios, drawn by its significant barriers to entry and pricing power. Recent notable transactions, such as Abbott Laboratories's acquisition of Cardiovascular Systems and Johnson & Johnson's takeover of Abiomed, have further heightened the appeal of this area and cemented its reputation as a dynamic innovation center. This surge in interest shows no signs of waning, as persistent rumors of a possible Shockwave Medical buyout underscore the fascination with this sector's potential.
Hospital budgets matter
Concerns over hospital budget constraints persist as high upfront payments pose challenges. While the confirmation of this impact is yet to be established, recent insights from Intuitive Surgical's 1Q23 earnings report paint a different picture, showing strong growth not only across procedural volumes but also in new capital installs. However, to approach this potential outcome cautiously, we strategically positioned our portfolio toward players that generate recurring revenue streams and offer devices with compelling pricing. By doing so, we aim to mitigate the potential effects of hospital budget constraints and ensure continued growth in the evolving healthcare landscape.
Setbacks and strides
The release of Novocure's LUNAR results, testing the effectiveness of Tumor Treating Field, stirred a mix of anticipation and disappointment. While the results fulfilled the criteria for approval, they left the medical community grappling with several unanswered questions regarding the therapy's role in today's treatment paradigm, potentially hindering its widespread adoption. However, upcoming clinical readouts (for ovarian cancer) could provide additional information regarding the efficacy of the therapy, which could help alleviate skepticism among doctors and investors.
On another note, there is promising progress in mechanical interventions for managing deep vein thrombosis and pulmonary embolism. Developed by the likes of Inari Medical and Penumbra, these interventions are steadily gaining market share from traditional thrombolytic therapy and anticoagulants and have already achieved a remarkable penetration rate of approximately 90% in high-risk patients. Recent successful clinical readouts (e.g., Inari Medical's FLAME) show that the benefits can be extended to intermediate-risk patients, consequently expanding the total addressable market (TAM) of this approach.

The implantable odyssey
Neuro expands its horizons
The market for implantable devices is driven by the expanding TAM and the opportunity to gain market share through innovative advancements. As anticipated, in the field of neuromodulation, devices are undergoing significant developments, becoming smaller, more sophisticated, and tailored to cater to less severely affected segments of the targeted population. In this sense, Inspire Medical remains well on track to expand its TAM by 20% by addressing patients with higher obstructive sleep apnea (OSA) and children with Down syndrome. In a similar vein, Axonics has introduced the 4th generation sacral neuromodulation implant (used to regulate bladder and bowel functions). The device is 60% smaller than the previous version and with a longer lifespan (20 years, requiring only one recharge every six months vs. 15 years, recharging once per month).
Insulin pump competition pumps up
The market for insulin pumps is experiencing heightened competition with the entrance of Beta Bionics and Medtronic, leading investors to be concerned. However, the recent product launches and integration with new CGMs can yield positive results, especially for tubeless pump makers. Indeed we are confident that this technology possesses a compelling advantage in today's competitive landscape. Their unique product design and pricing set them apart and are particularly appealing in uncertain economic times. Recent acquisitions of private tubeless pump makers AMF Medical and EOFlow by Tandem Diabetes Care and Medtronic validate this belief. Today the proportion between tubeless and tubed patients is growing and has reached 40/60, compared to the historic 20/80 mix.
Heartbeats of innovation
While creating a fully functional artificial heart remains a complex task, Carmat has made remarkable strides in developing the world's most advanced implantable artificial heart. Carmat believes that ongoing clinical trials will validate the technology's enormous potential to address the shortage of donated hearts. However, there are still significant challenges to overcome, particularly in ensuring the quality and cost-effectiveness of production. The ultimate success of this venture is yet to be determined. In the meantime, more mature technologies like Vericel's cell therapy products for knee cartilage and skin reconstruction have already demonstrated commercial success. These technologies steadily expand into new indications and are positioned for potential growth acceleration in 2H23 and through 2024.

Pioneering technologies for better care
The dialysis care market has seen brighter days
The recent challenges faced by legacy players in the dialysis market to meet financial targets have created a silver lining for innovative players aiming to disrupt the status quo. Outset Medical's Tablo has emerged as a compelling solution, offering an FDA-approved technology that has the potential to drive significant cost savings and improve convenience for patients. The company aims to shift dialysis care from hospitals to the home setting, providing patients greater flexibility and independence. While it is still in the early stages of adoption, the technology faces some potential threats. Nextkidney, a pioneering Dutch startup, is creating the world's first-ever portable hemodialysis device for kidney patients with a planned launch scheduled for 2024 in select European countries.
Keeping our organs warm
The kickstart of the year showcased positive trends in organ transplantation volumes and increased utilization of warm preservation techniques, which are gradually disrupting cold storage. Thanks to the dedicated efforts of the national transplant network in the U.S. combined with strong innovation, the number of deceased-donor transplants has risen by 23% compared to five years ago. However, there is still significant room for further growth and TransMedics Group is actively positioning itself as a key partner for transplant centers, seeking to seize this valuable opportunity.
The vision care market has caught our eye
The ophthalmic market faced challenges in the early part of 2023, primarily driven by lower demand for contact lenses, refractive surgeries, and cataract surgeries due to seasonal factors and temporary obstacles. However, we have recently emphasized the significant potential of Intraocular Collamer Lenses (ICL) technology in this sector, which offers notable advantages over traditional procedures. Furthermore, there is considerable excitement surrounding the introduction of new glaucoma devices this year, notably the highly anticipated Glaukos iStent Infinite and iDose products. These innovative advancements are expected to bring a wave of progress and transformation to the ophthalmic market.

CGM is breaking boundaries
CMS breaks new ground for CGM
CMS has made an early announcement this year granting reimbursement coverage to Continuous Glucose Monitoring (CGM) systems for the Type 2 basal insulin population, which took effect in April. Currently, in the U.S., only 25% of the 2mn individuals with Type 2 diabetes who require intensive insulin treatment (administering multiple shots per day) utilize a CGM. By extending coverage to individuals who use basal (daily) insulin, the CGM market opportunity in the U.S. could potentially double. Since the Type 2 basal insulin opportunity is not fully embedded into analysts' estimates of companies' financials, any incremental addition in this area offers a potential upside. With Type 2 diabetes expected to have a more substantial impact in the second half of 2023, there is room for optimism and the possibility of exceeding current projections.
The CGM battle intensifies
Apple Inc is on a mission to develop a non-invasive method of measuring blood glucose levels, eliminating the need for skin pricks. If successful, their ultimate goal is to incorporate this technology into the Apple Watch, making it an essential device for millions of individuals worldwide living with diabetes. Their system involves the use of lasers to emit specific wavelengths of light into the interstitial fluid, which then reflects glucose concentration for calculation. Another company, Know Labs is set to introduce the world's first commercially available non-invasive glucose monitor. By transmitting radio waves through the skin and employing advanced algorithms, molecular signatures are captured and converted into glucose-level information. The accuracy of these monitors does not pose any significant near-term threat to existing players but rather has the potential to unlock new opportunities for the CGM market by helping identifying new patients.
Pumping up the CGM game
The intensifying competition in the insulin pump market is poised to have a positive impact on the CGM market. CGM technology plays a crucial role in enhancing the effectiveness of insulin pumps. By providing real-time glucose level monitoring, CGM systems offer valuable data that enables precise insulin dosing and helps individuals with diabetes manage their condition more effectively. As insulin pump manufacturers strive to differentiate their products and provide comprehensive solutions, integrating CGM capabilities has become a key focus.

A new weapon against cancer
The ongoing quest for better diagnostics
Liquid biopsy offers non-invasive testing capabilities to detect tumor-derived genetic material in circulating blood samples, marking a significant step forward in precision medicine. Recent advancements have propelled its widespread adoption in clinical and biopharmaceutical settings, with growth also driven by a recovery in oncology volumes. But the battle in the space is far from over as Exact Science has recently announced its pivotal BLUE-C trial, widening the gap between the performance of blood-based and stool-based tests. Meanwhile, Guardant Health is preparing to target lung cancer with the upcoming readout of the NCIRE-Lung prospective study in late 2023 to mid-2024.
Recognition for value
During the year's first half, the field has experienced notable victories in incremental reimbursement, affirming its clinical value and economic benefits. These reimbursement achievements will contribute to further adoption within healthcare systems, ensuring enhanced patient access to this innovative diagnostic approach. Notably, Guardant Health recently secured CMS coverage for G360 Response, and its pursuit of Advanced Diagnostic Laboratory Test (ADLT) status (laboratory tests that meet specific criteria set by CMS) anticipates potential further price increases. Additionally, the company expects reimbursement in Japan for G360 this year, further solidifying the financial sustainability and global acceptance of its tests.
Towards a new era
Significant progress has been made in the development of next-generation liquid biopsy tests. These advanced tests prioritize sensitivity and accuracy, enabling the identification of specific genetic alterations associated with early-stage cancers. The integration of additional data sources and the use of generative AI holds tremendous potential to further augment the performance of these tests with the potential to unlock unprecedented insights and drive remarkable improvements in patient outcomes.

The ongoing battle for supremacy
New launches drive market momentum
The market for long-read sequencing, particularly with Pacific Biosciences's Revio launch, has experienced a strong start, with consistent demand and a steady influx of orders. In addition, the upcoming launch of Onso, a short read, is highly anticipated, and the company expects substantial interest and orders for this new product. Looking ahead, Pacific Biosciences envisions a sequencing market dominated by a single vendor holding around 50% market share, a second leader with 30-40% market share, and the remainder serviced by smaller firms.
Challenges mount for Illumina
Pacific Biosciences remains committed and well on track to steal Illumina's crown, which is currently grappling with challenges on multiple fronts. Firstly, a proxy battle initiated by Carl Icahn, an activist shareholder, and his nomination of board members, along with his push to expedite the divestiture of GRAIL, has added uncertainty to the company's direction. Secondly, increased competition and margin pressure resulting from the launch of NovaSeq X are impacting core Illumina's performance in 2023. Lastly, the growing competition from smaller vendors is adding to the pressure. Pacific Biosciences's vision is beginning to materialize, but only time will reveal the ultimate outcome.
Genetic data becomes a goldmine
In the era of generative AI, possessing a comprehensive genetic dataset becomes a valuable resource that companies can leverage and monetize to extract invaluable insights and propel advancements in pharmaceutical research, genetic engineering, and precision medicine. By analyzing and interpreting complex genetic data, we can significantly enhance the diagnosis and treatment of different genetic disorders. This reservoir of genetic information represents a veritable goldmine, holding the key to unlocking groundbreaking discoveries and catalyzing transformative breakthroughs in diverse domains of healthcare and biotechnology.

Fading momentum
Gloomy skies cast shadows on industry leaders
Following a relatively favorable performance in 2022 compared to other sectors, the In Vitro Diagnostic (IVD) sector is starting to lose its luster. Even prominent industry players are not immune to the prevailing gloom. Multiple factors contribute to this downward trend, including uncertainties surrounding long-term Covid-19 demand since companies are now receding to growth rates reminiscent of the pre-pandemic era. Furthermore, the absence of clear catalysts capable of reigniting momentum within the sector has significantly dampened its growth prospects.
Struggling to regain its footing
Another significant factor leading to declining expectations is the waning demand from some clients, specifically small biotech customers. In a bid to preserve cash amidst reduced venture capital funding, these customers have implemented stringent measures, decreasing their expenditure on diagnostic products and services. Adding to the sector's challenges, medium-sized and large pharmaceutical companies have adopted a more cautious approach to spending (following the uncertainties triggered by the Inflation Reduction Act). These difficulties are expected to persist throughout the rest of the year, potentially pushing companies to adapt their strategies and explore new growth avenues.
Challenges to China's footprint
The changing business environment in China presents another potential challenge for companies operating in the IVD market, particularly regarding their market presence. While the overall growth of the IVD market in China is expected to surpass the industry average, international players may experience a slower pace of growth compared to previous years. This deceleration can be attributed to several factors, such as regional geopolitical challenges and a growing emphasis on localization. As a result, these players may face difficulties in maintaining or expanding their footprint in this country.

The new frontiers of imaging
Medical imaging satellites to spur M&A
Recent trends in the imaging industry have revealed a significant divergence from the previous year, as U.S. companies have witnessed a notable surge in share prices compared to their Chinese counterparts. However, despite this favorable shift in market sentiment, concerns loom over the potential impact of a macro-induced slowdown in the U.S. in the near term. The uncertain economic landscape demands caution and adaptability within the industry to navigate potential challenges effectively. Leading players GE Healthcare and Siemens Healthineers have recently become standalone companies, free from their respective conglomerates. This newfound autonomy empowers these companies to undertake strategic initiatives and shape their destiny, which may include engaging in mergers and acquisitions to further bolster their positions in the market.
Ultrasounds enter new applications
Unexpectedly, ultrasounds offer a fresh perspective on innovative neuro treatments. Clinical trial data has recently unveiled the immense potential of this technology in penetrating the blood-brain barrier (BBB) and alleviating inflammation, paving the way for exciting applications. In a groundbreaking study, individuals diagnosed with brain tumors underwent a remarkable procedure involving the implantation of an ultrasound device. During their regular chemotherapy sessions, the implanted device emitted ultrasound waves, temporarily opening the BBB and facilitating the entry of therapeutic drugs into the brain. These significant findings give imaging companies an opportunity to leverage this technology and venture into the burgeoning field of neurological treatments.
The power of generative AI in medical imaging
The healthcare industry is at the forefront of generating vast amounts of data, accounting for approximately 30% of the world's data. A significant portion of healthcare data, around 90%, stems from imaging modalities such as X-rays, CT scans, MRI, ultrasound, and PET scans. By leveraging generative AI trained on large datasets, healthcare organizations can harness the power of machine learning algorithms to create synthetic medical images that closely resemble real patient data. The generated images can then augment the existing datasets, providing a larger and more diverse set of training examples for AI algorithms. Medical imaging could be one of the first sectors to reap the advantages of generative AI.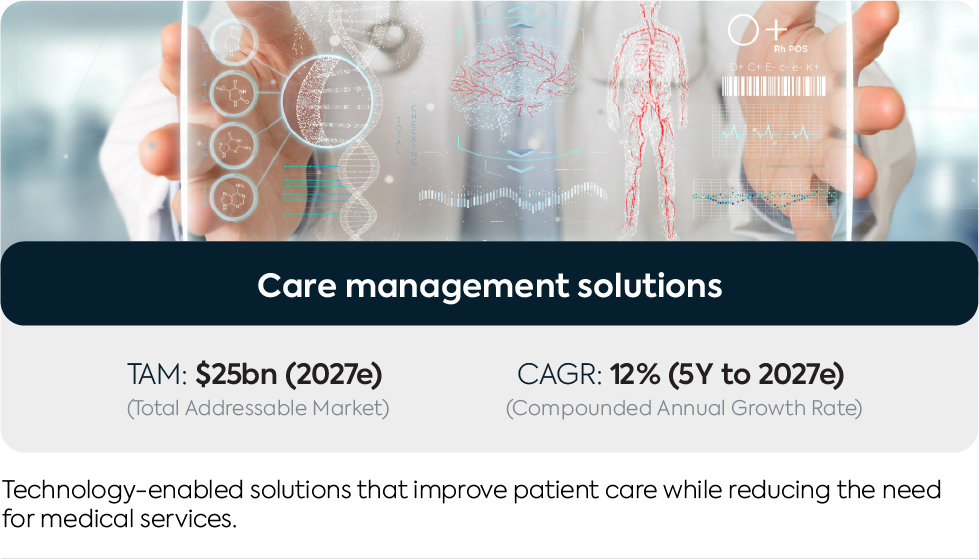 The way out of the cost maze
A glimpse of optimism
The hospital labor market has shown improvement and companies in this space have reported some stabilization in their customer bases. However, despite these positive indicators, the improvement is described as small and incremental since health systems have remained focused on cost management, putting pressure on the companies' guidance for the fiscal year 2023. Another prominent issue that has emerged is the potential impact of inflation, particularly on wages and other expenses. In anticipation of these challenges, companies have taken proactive steps to implement robust cost management strategies aimed at mitigating the effects of inflation. Noteworthy industry players such as IQVIA, Omnicell, R1 RCM Holdco Inc, and Health Catalyst have reported favorable results from their cost management initiatives, leading to overall solid performance, enhanced margins, and effectively offsetting previous inflationary pressures.
A powerful shift is in the making
Leaders in the value-based care industry have the necessary technology, care models, specialized roles, and streamlined workflows to successfully manage even the most challenging patient populations. Moreover, they have proven to deliver a return on investment, improved health outcomes, and high levels of patient satisfaction. The CMS is actively promoting this model and has recently facilitated the participation of small and rural organizations in value-based care arrangements. This is a significant milestone as the healthcare industry advances towards the CMS's ambitious goal of achieving 100% involvement of original Medicare beneficiaries and the majority of Medicaid recipients in value-based care models by 2030.
Strong consolidation ongoing
The recent acquisition of Oak Street Health by CVS Health serves as another strong affirmation of the prevailing trend in the healthcare sector towards home and value-based care. This topic has been previously discussed and anticipated and reflects the industry's increasing recognition of the importance of these care models in driving growth and transforming healthcare delivery. Home and value-based care not only have the potential to reduce healthcare costs but also to improve patient outcomes and enhance the overall efficiency of the healthcare system. CVS Health's acquisition of Oak Street Health further validates the industry's commitment to embracing these models and underscores their significance in shaping the future of healthcare.

Showing signs of life
Dancing with economic uncertainties
The telemedicine market acknowledges the potential overhang from a recession, and companies are factoring it into their guidance for 2023. Different segments of the telemedicine market face varying risks. Direct-to-consumer (DTC) businesses like Teladoc's BetterHelp depend more on consumer discretionary spending, making them vulnerable in a severe recession scenario. On the other hand, business-to-business (B2B) services will face challenges if large layoffs occur. However, this impact may be slightly mitigated since, when this happens, members tend to transition from commercial insurance to Medicaid. This transition helps maintain membership levels to some extent. Teladoc Health, the leader in the telemedicine market, is better positioned than its smaller peers to withstand the challenges of a tough macroeconomic environment.
A hodgepodge of healthiness
Telemedicine is continuously advancing, integrating an extensive array of services like mental health, prediabetes management, and weight management into its expanding offerings. These bundled offerings enhance patient engagement and retention, strengthening the vital relationship between providers and patients. Integrating various services into comprehensive packages becomes increasingly essential for ensuring sustained growth and success. For example, multi-product bookings now make up over 70% of Teladoc sales. This strategy not only meets the demand for cost-effective solutions but also makes telemedicine a valuable tool in the value-based care trend.
Unleashing the power of telemedicine
Telehealth technology companies are at the forefront of innovation, venturing into the realm of Remote Patient Monitoring (RPM) and revolutionizing care management. With the widespread adoption of medical-grade, multi-vital RPM sensors, a continuous stream of comprehensive patient data for acute and chronic conditions has become a reality. The rise of RPM as a critical component of telehealth in the coming years is imminent. It paves the way for proactive care, leveraging the power of AI algorithms to extract valuable information and support informed decision-making, ultimately improving patient outcomes. Generative AI is also a pivotal player in enhancing telemedicine efficiency and streamlining processes. Through automation, tasks such as medical record analysis, appointment scheduling, and even triage are handled seamlessly, allowing healthcare professionals to focus on delivering high-quality care.

Personalization at the forefront
Though times for traditional markets
Healthcare 3D printing is experiencing challenges in the dental and orthopedic markets, which are expected to continue with a slowdown projected for 2023. Factors such as high inventories of materials, weaker demand, and cautious consumer behavior have contributed to this decline. Additionally, industrial manufacturers are exercising caution in investing in new equipment, further impacting the sector's outlook.
Unity is strength
In a bid to help drive the adoption of 3D-printed healthcare devices, several notable partnerships have emerged within the industry. Stratasys, a leading player in the field, and Ricoh, a multinational electronics company, joined forces this year to create realistic anatomical models using 3D printing technology. The collaboration aims to provide medical professionals with visualizations of a patient's anatomy through Stratasys' Patient-Specific 3D Solutions. Another notable partnership in the realm of 3D-printed medical devices involves BAAT Medical, a medical device service provider, and Amnovis, a Belgian contract manufacturer. Together, these companies have developed an efficient and innovative process for 3D-printed medical devices, covering the entire journey from initial design to manufacturing and validation of end-user devices.
The resilient journey towards organ regeneration
Regenerative medicine and bioprinting hold immense potential and could revolutionize the medical field. The shortage of organ donors and the high demand for transplants make regenerative medicine a particularly compelling solution. By utilizing bioprinting technology, the development of organs-on-a-chip, and advancements in replicating organ-specific drug responses, this emerging field offers the possibility of significant breakthroughs. While these efforts are currently in the pre-commercial stage, some companies in the area, such as 3D Systems, expect a potential revenue contribution already over the next two years.

Organ-OMICS
Fundamentals degrading
Challenging dynamics currently characterize the transplant testing market as players encounter increased exposure to negotiated reimbursement prices with commercial payers. Commercial payers, including influential entities like UnitedHealth and Humana, hold considerable sway in shaping the market, enabling them to delay or reject claims for tests they perceive as unnecessary or excessively costly. Furthermore, the growing adoption of Medicare Advantage plans further complicates the challenges associated with the payer mix, presenting additional complexities for companies in the space.
The challenging reimbursement environment is exacerbated for companies that expand into niche markets with lower Medicare coverage. Indeed, disparities exist in Medicare coverage across different types of transplants, e.g., lung transplants receive less adequate coverage than kidney and heart transplants.
A game changer for tests
Despite the reimbursement challenges, notable advancements in the field of transplant technology have emerged, particularly with the introduction of new organ preservation systems. These advancements are expanding the TAM for transplant diagnostics. One game-changing development that has garnered attention is the FDA-approved organ transplant device from TransMedics Group. While it is still early to gauge its full impact, this revolutionary device holds tremendous potential for improving organ transplant rates.
A new accelerator factor
The transplant testing market presents a highly competitive landscape, witnessing active involvement from new players like Natera, who have introduced innovative tests. These developments underscore the dynamic nature of the market, where companies constantly strive to differentiate themselves and solidify their position in a rapidly evolving sector. Adding to this momentum is the emergence of generative AI, which further enhances accuracy and speeds up the identification process of compatible organ matches.

Decoding our destiny
From politics to petri dishes
Political dynamics have impacted the laboratory-developed tests (LDT) industry for a while but the shift in Congress majority has finally alleviated concerns about a new regulatory oversight called the VALID Act, aiming to bring rigorous quality control and transparency in the LDT regulatory framework. Indeed the industry narrowly avoided stricter controls when the rule didn't pass. In addition, negative media coverage questioning the accuracy of genetic tests has added regulatory and commercial risks. Regulatory bodies and payers will approach LDTs with caution, emphasizing the need for accurate results.
Paving the way for superpowers in personalized medicine
This year has witnessed significant advancements in genetic testing, with companies like Natera leading the way in innovative solutions. Natera's Signatera technology, which utilizes circulating tumor DNA, has gained Medicare coverage for breast cancer screening, expanding its application beyond colorectal cancer. This milestone signifies a step forward in personalized medicine and early cancer detection. Additionally, Natera's RenaCARE study explores the potential of Renasight, a genetic test designed for patients with chronic kidney disease, providing valuable insights for improved patient care.
Show me the money first
While molecular diagnostic companies have shown promise in the healthcare industry, they face obstacles in securing financing and generating adequate cash flow to support their operations. Many companies in this sector struggle to achieve profitability, primarily due to the substantial investments required for clinical validity studies and the challenge of influencing key opinion leaders and changing established standards of care. Convincing physicians to adopt new diagnostic approaches demands significant resources and effort. As the market matures, companies reevaluate their business strategies to establish more viable paths to profitability. In response to these market conditions, molecular diagnostic testing companies are reducing operating expenses and preparing for the next phase of the industry's evolution.
Year's Favourites 2023 - an update
TRANSMEDICS
(TMDX US)

Story unfolding as expected
In the first half of the year, TransMedics Group has made remarkable strides with its Organ Care System (OCS) platform, positioning itself as a superior alternative to traditional cold storage methods for organ preservation. As the only FDA-approved device for lung, heart, and liver transplantation in the U.S., the company enjoys a significant competitive advantage. One key factor supporting TransMedics Group's promising outlook is its impressive track record of commercial execution. So far the company has consistently exceeded expectations and delivered exceptional financial results.
TransMedics is taking steps to solidify its position as a trusted partner for transplant centers. Its venture into air freight is seen as a near-term uncertainty but has the potential to significantly increase the company's long-term value. By streamlining the organ procurement process this strategy aims to generate additional revenue, expand the market reach, and make a broader impact in the organ transplantation industry.
Furthermore, the company plans to launch OCS Kidney, which is expected to open up a new growth opportunity by addressing the critical need for kidney transplants. More than 90k Americans are waiting for a life-saving kidney transplant, and ~43k people die yearly for lack of donors.
OUTSET MEDICAL
(OM US)

Promising progress despite initial setback
Despite facing initial setbacks and falling short of expectations in the first half of the year, Outset Medical continues to hold significant potential for improvement. The company's increasing losses during the last quarter were offset by positive developments that suggest a potential turnaround. Notably, Outset Medical successfully secured contracts with renowned Integrated Delivery Networks (IDNs), indicating growing recognition and adoption of their innovative solutions.
Moreover, the company has set ambitious goals for margin expansion, aiming for a long-term target of 50% with a projected 20% margin by the end of 2023. This expansion will be driven by cost-saving measures such as low freight costs from their Mexico facility and the introduction of additional products into their portfolio.
The home market remains a substantial growth opportunity, strengthened by recent Tablo studies showing shorter training times, exceptional clinical outcomes, and strong retention rates. By focusing on margin expansion, securing key contracts, and leveraging its strengths in the home market with Tablo, Outset Medical is poised to overcome initial setbacks and drive positive growth.
DEXCOM
(DXCM US)

Catalysts ahead
During the first half of the year, Dexcom has witnessed impressive growth in its patient base, particularly among individuals with Type 1 Diabetes. The introduction of the G7 sensor has garnered positive reception, earning praise from users and leading to an increase in subscribers. Indeed, the G7 sensor has attracted new prescribers who previously did not utilize the company's products.
Looking ahead to the second half of the year, DexCom is expected to benefit from the inclusion of the Type 2 Diabetes population in its TAM, which successfully secured CMS reimbursement in April. The financial impact of this development is yet to be fully reflected in the company's performance.
In addition, Dexcom plans to introduce a sensor with a longer wear time (15 days) within the next 6-18 months. This represents an opportunity for the company to substantially improve its cost of goods sold (COGS), ultimately bolstering its margins. Enhanced margins resulting from the extended wear sensor will open up avenues to allocate resources to different areas (e.g., reducing prices for customers and investing in marketing initiatives). Finally, Dexcom has recently unveiled a new CGM tailored to the 25mn non-insulin-using Americans living with Type 2 diabetes, paving the way for yet another substantial market opportunity to emerge.
Catalysts
M&A picking up. M&A activity might gain momentum as large players and their spinoffs actively seek new growth opportunities.

Innovation takes center stage. The medical device industry is characterized by a continuous surge in innovation that fuels growth. Reimbursement follows as healthcare systems recognize their potential to reduce healthcare expenses while improving patient outcomes. TCET implementation represents one of the most awaited catalysts for the year.

Procedural volumes recovery. Recovery in procedure volumes and backlog are driving growth across several sectors as patients begin returning to regular healthcare routines.
Risks
Impact of economic recession. During an economic recession, individuals may be more cautious about discretionary spending, including elective procedures. A downturn in the economy can also lead to a soft hospital spending environment that might affect the demand for devices requiring high upfront payments.

TCET does not get to the end of the line. Without the approval of the Transitional Coverage for Emerging Technologies (TCET) program, medical device manufacturers may experience significant delays in obtaining Medicare coverage for breakthrough devices, which could hinder patients' access to innovative treatments and diagnostics.

Regulatory overhaul. Evolving regulations in the EU and changing requirements for AI-based medical devices pose a risk to the medical device industry as companies adapt to the new more complex compliance frameworks.
Companies mentioned in this article
3D Systems (DDD); AMF Medical (Not listed); Abbott Laboratories (ABT); Abiomed (ABMD); Amnovis (Not listed); Apple Inc (AAPL); Axonics (AXNX); BAAT Medical (Not listed); Beta Bionics (Not listed); CVS Health (CVS); Cardiovascular Systems (CSII); Carmat (ALCAR); Dexcom (DXCM); EOFlow (Not listed); Exact Science (EXAS); GE Healthcare (Not listed); GRAIL (Not listed); Glaukos (GKOS); Guardant Health (GH); Health Catalyst (HCAT); Humana (HUM); IQVIA (IQV); Illumina (ILMN); Inari Medical (NARI); Inspire Medical (INSP); Intuitive Surgical (ISRG); Johnson & Johnson (JNJ); Know Labs (Not listed); Medtronic (MDT); Natera (NTRA); Nextkidney (Not listed); Novocure (NVCR); Oak Street Health (OSH); Omnicell (OMCL); Outset Medical (OM); Pacific Biosciences (PACB); Penumbra (PEN); R1 RCM Holdco Inc (RCM); Ricoh (Not listed); Shockwave Medical (SWAV); Siemens Healthineers (SHL); Stratasys (SSYS); Tandem Diabetes Care (TNDM); Teladoc Health (TDOC); TransMedics Group (TMDX); UnitedHealth (UNH); Vericel (VCEL)
Back to all articles
Explore:
Disclaimer
This report has been produced by the organizational unit responsible for investment research (Research unit) of atonra Partners and sent to you by the company sales representatives.
As an internationally active company, atonra Partners SA may be subject to a number of provisions in drawing up and distributing its investment research documents. These regulations include the Directives on the Independence of Financial Research issued by the Swiss Bankers Association. Although atonra Partners SA believes that the information provided in this document is based on reliable sources, it cannot assume responsibility for the quality, correctness, timeliness or completeness of the information contained in this report.
The information contained in these publications is exclusively intended for a client base consisting of professionals or qualified investors. It is sent to you by way of information and cannot be divulged to a third party without the prior consent of atonra Partners. While all reasonable effort has been made to ensure that the information contained is not untrue or misleading at the time of publication, no representation is made as to its accuracy or completeness and it should not be relied upon as such.
Past performance is not indicative or a guarantee of future results. Investment losses may occur, and investors could lose some or all of their investment. Any indices cited herein are provided only as examples of general market performance and no index is directly comparable to the past or future performance of the Certificate.
It should not be assumed that the Certificate will invest in any specific securities that comprise any index, nor should it be understood to mean that there is a correlation between the Certificate's returns and any index returns.
Any material provided to you is intended only for discussion purposes and is not intended as an offer or solicitation with respect to the purchase or sale of any security and should not be relied upon by you in evaluating the merits of investing inany securities.
Contact