Reach for the stars...with your phone
The satellite communication market is undergoing a massive evolution with the arrival of direct smartphone-to-satellite connectivity. Tremendous growth opportunities that have not been seen since the arrival of GPS will arise for the first movers in this space.
Bottom line
Advances in technology have made it possible for regular smartphones to connect to satellite networks, and the use of Low Earth Orbit (LEO) satellites has the potential to greatly improve the latency and speed of satellite communication. However, several challenges still need to be overcome for satellite communication to become a more widely adopted alternative to traditional cellular networks.
We are convinced that the effective rollout of such services will be foundational and be a significant tailwind for New Space players, helping unravel the massive >20% growth potential of the space market by integrating it into the most-used objects in our daily lives - smartphones.
Executive Summary
The next frontier of the satellite industry
Direct phone-to-satellite connectivity uses a traditional smartphone to communicate through a network of satellites instead of traditional cellular towers.

Satellites can provide coverage in areas where cellular networks do not reach or act as a backup in situations where terrestrial networks are down or overloaded.

The industry is on the verge of overcoming the main weak points, such as price, latency, speed, and signal quality, and is ready to skyrocket into a $140bn market by 2026.
New technology solves old problems for promising opportunities
Low Earth Orbit (LEO) satellite constellations provide lower latency and higher coverage but continue to remain a costly endeavor to become a more widely adopted alternative to traditional cellular networks.

While the smartphone-satellite capabilities are not yet enough for a complete internet experience or voice communications, they are enough to deliver text messages.

The connection is still challenging. Under heavy foliage, a message may fail to send. And even in ideal conditions with a direct view of the sky, a message might still take 15 seconds to send.
Your chance to reach the stars
SpaceX is the undisputed leader in satellite connectivity with the biggest constellation, manufacturing and launch capabilities, and commercial service, albeit remaining a private player.

Globalstar is the first company to expand its offering and client base to smartphones, backed by an important partner - Apple. The service is offered for free for the first two years.

Iridium announced a deal with Qualcomm, where it will initially make the platform available for premium Android smartphone original equipment manufacturers (OEMs) and later extend its chip lineup to all other devices.
The next frontier of the satellite industry
The traditional industry
Direct phone-to-satellite connectivity, also known as satellite phone communication, is a communication method through a satellite network instead of traditional cellular towers. This type of communication has been typically used in remote or rural areas or situations where conventional cellular networks are unavailable or have limited coverage. Cellular networks rely on terrestrial towers to transmit and receive signals. At the same time, satellite communication can reach a wider area as it depends on a network of satellites orbiting the planet.
One of the main advantages of satellite phone communication is the global coverage and the ability to act as a backup communication method in case of natural disasters or other emergencies when traditional networks are down. For example, Apple has given their latest iPhones the ability to send an S.O.S. signal via satellites, which we expect could extend beyond the emergency signal to full-scale communication in the next couple of years. However, one of the main drawbacks is that satellite communication and satellite phones are typically more expensive than cellular communication. The latency or delay in transmitting and receiving signals can also be longer than with cellular networks. Also, the signal quality is generally worse than with cellular networks. Furthermore, satellite phones have lower-capacity batteries than cellular phones, as seen in the table below.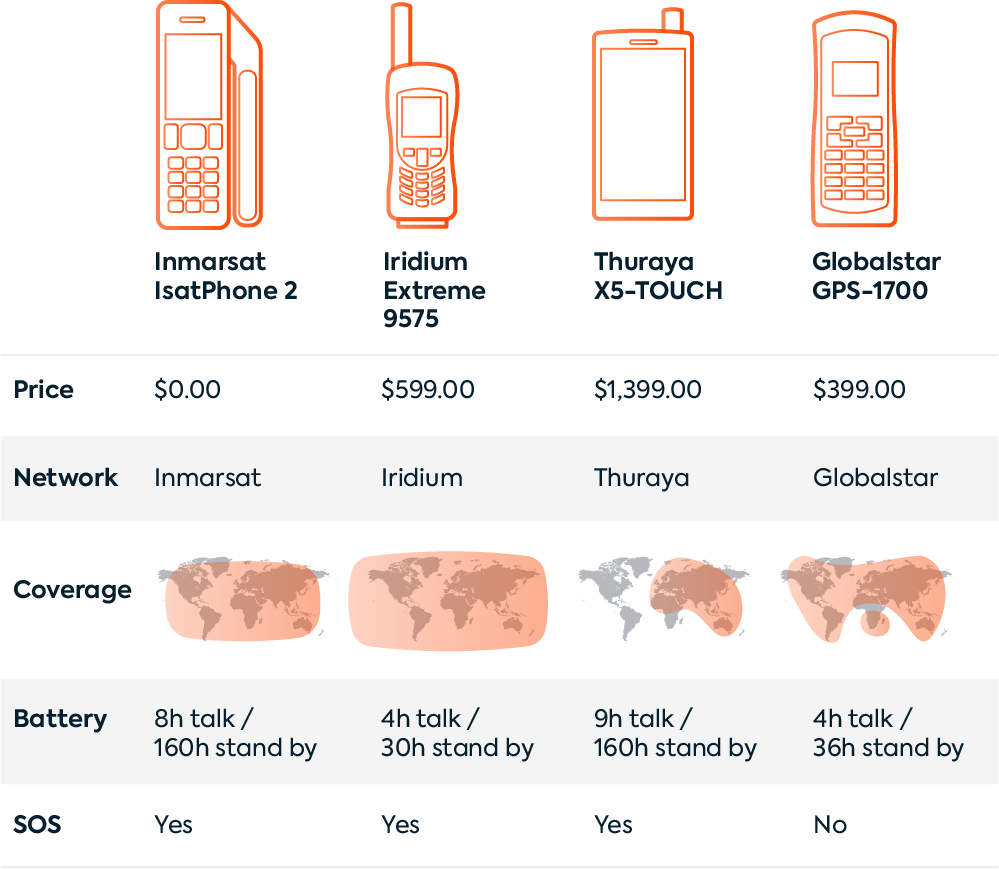 Evolution of satellite communication
The industry has found ways to circumvent and solve the main weak points of traditional satellite communications, such as price, latency, and signal quality. Enter the direct smartphone-to-satellite connectivity.
Technological advances have recently enabled regular smartphones to connect directly to satellite networks through specialized chips and antennas. This allows users to make calls and send text messages using satellite networks, notably when outside the range of traditional cellular networks. This can significantly increase the accessibility and affordability of satellite communication for a broader range of users. Additionally, this new connectivity allows for greater flexibility for users, as they no longer need to carry a separate "traditional" satellite phone.
Moreover, latency and signal quality are being improved by another trend that has emerged in recent years and that we already covered in detail: the use of Low Earth Orbit (LEO) satellites for communication. These satellites orbit the Earth at a much lower altitude than traditional geostationary satellites, which allows for faster transmission and reception of signals. This dramatically improves the latency and signal quality of satellite communication.
Unprecedented market opportunity
According to a report by the Satellite Industry Association, the global satellite industry generates ~$300bn annually in revenues, already indicating significant demand for such services. We believe the ability to connect smartphones directly to satellites, first unveiled by Apple (an "iPhone moment" for Space) in September, will further boost the space industry's visibility. We believe this could be the most notable entry of space-based services in daily life since the addition of GPS.
Moreover, with the increasing demand for connectivity in remote and rural areas, and the growing popularity of satellite-based services, we expect the market for satellite communication to accelerate in the coming years to >10% YoY growth for the next five years, an order of magnitude higher than legacy TV and other fixed services, growing at 0.4% and 4.5%, respectively and representing the lion's share of satellite's business.
Furthermore, the addressable market for satellite communication remains significant. About a third of the world's population is not connected or does not have internet access, 70% does not have access to the newer 5G cellular networks, and a vast number of people on Earth do not have a connection "speed" sufficient for modern usage. This highlights the potential for satellite communication to provide telecommunication and internet access to underserved or remote areas.
New technology solves old problems for promising opportunities
Direct satellite-to-phone connectivity depends on various technologies at both ends: satellites, phone chips, and antennas.
Low Earth Orbit satellites enable stellar opportunities
Traditionally, broadband and telecom services have been offered via geostationary (GEO) satellites with a physical delay of 240ms due to the orbit height (>35'000 km), excluding many applications (e.g., video conferencing, gaming). Low Earth Orbit (LEO) satellites, due to their proximity (< 2000km), provide lower latency (<15ms), higher speed, and better coverage. However, several challenges still need to be overcome for satellite communication to become a more widely adopted alternative to traditional cellular networks. Deploying and maintaining large constellations of satellites is expensive, with capex required to be close to $10bn. Large companies like SpaceX and OneWeb continue to deploy their constellations, and others, such as Amazon Kuiper, are joining the ranks. The figure below briefly explains the difference between GEO and LEO satellites.

Not without technical challenges
Nevertheless, direct sat-to-phone connectivity is technically challenging even with LEO satellite constellations. The first challenge is that small antennas must be embedded into the smartphones, and then a larger one is needed on the other end to receive the weaker signal to offset the small antenna. The second challenge is the amount of data that can be sent via satellites and that emergency services accept voice, not text data.
The first technicality is resolved thanks to the emergence of electronic antennas, which are much more powerful and sensitive than traditional ones and are flatter, lighter, and more compact to fit on smaller satellites. The second challenge is resolved by an optimized process and massive investments into custom hardware, software, and workflows to optimize the service.
Speaking of iPhones, satellite connectivity is a feature exclusive to iPhone 14, as it uses custom hardware, i.e., special antennas. These are different from the usual GSM module providing connectivity like 5G. The special antennas use the spectrum designated purely for mobile satellite services by ITU Radio Regulations. iPhones are able to compress and send the message as text data, which is received by one of Globalstar's satellites and dispatched to custom ground stations located at key points worldwide. These stations use new high-power antennas (designed and manufactured specifically for Apple) to push the notification to the nearest emergency services that take care of dispatching help.
Yet, the connection may still remain challenging. For example, in ideal conditions with a direct view of the sky and the horizon, a message might still take 15 seconds to send. Over a minute under trees with light or medium foliage may be necessary, and a message may even fail to send under heavy foliage.
On the acceleration path
While the smartphone-satellite capabilities are not yet enough for a complete internet experience, it is more than enough to deliver texts in uncovered areas. Competition is already working on implementing the projects in real life. Positive client feedback and successful adoption would mean more demand from smartphone developers across the entire ecosystem of satellite services. This, in turn, would create more opportunities for everybody to demonstrate the value of satellite connectivity to the masses, and some companies have already started taking advantage of this opportunity.
Apple launched its latest iPhone with an emergency satellite connectivity powered by GlobalStar. Iridium has announced a deal with Qualcomm last month. AST SpaceMobile is rolling out a prototype of satellite-to-smartphone connectivity with higher bandwidth, trying out larger satellite antennas. Telecom players have also perceived strong demand from their customer base for such services. T-Mobile targets to close its cellular coverage gaps from space as soon as 2024 with the help of Starlink constellation powered by SpaceX, as announced in August. In early December, SpaceX followed up on the announcement by filing an application with the US Federal Communications Commission to equip some of its 2nd-gen satellites with "direct-to-cellular" hardware.
Your chance to reach the stars
Investors can have many options to capture the growth of the satellite communication sector. As we have seen, the success of satellite-to-smartphone connectivity depends on actors at both ends: the satellite ecosystem (including manufacturing, deployment, and operations) and smartphone technology used for the connectivity. Therefore, significant business opportunities will emerge across the supply chain, implying substantial tailwinds for the innovative and cost-conscious players we present here below, which are in a better competitive position than Old Space players.
Globalstar
Globalstar is a provider of mobile satellite voice and data services. The company operates an LEO constellation of 48 satellites at an altitude of 1'400km that provides coverage across the globe. Globalstar has traditionally focused on specific markets, such as the maritime and outdoor recreation industries building a solid customer base. Now it is the first company to expand its offering and client base to smartphones with an important partner, Apple. The service is free for the first two years with the purchase of each iPhone and then it is likely to become a subscription-based service with pricing yet to be announced.
Iridium
Despite not being the first to move into the smartphone market, Iridium's LEO constellation of 66 satellites operates at a lower altitude (780km) than that of Globalstar, which can result in lower latency and faster data speeds. These advantages and broader coverage are critical for real-time voice communication or high-speed data transfer, especially in remote or underserved areas. Iridium announced a deal with Qualcomm in early January. It will initially make the platform available for premium Android smartphone OEMs and later extend its chip lineup in the portfolio for more affordable smartphones, laptops, and other devices.
Besides the recent move to smartphones, Iridium Communications remains a global leader in the satellite services market, offering its clients a range of satellite phones and services. The company is leveraging its existing infrastructure to develop new solutions and services, e.g., remote asset tracking and monitoring. With its strong brand, existing infrastructure, and continued R&D investment, Iridium is well-positioned to capture the satellite-to-phone communication market.
SpaceX, Starlink, and T-Mobile
SpaceX's Starlink satellite internet service already has over >1mn users as of December 2022, and the company plans to deploy thousands more satellites in the coming years to expand coverage. To continue staying ahead of the competition, SpaceX's and T-Mobile's CEOs announced a common plan to roll out a direct satellite-to-smartphone service. The beta phase is expected as soon as the end of 2023 and will deliver low speeds at first to standard smartphones subscribing to T-Mobile. The service would be provided for free. Behind the stage, the technical prowess required to reach ubiquitous connectivity will be achieved using the Starlink constellation manufactured, launched, and operated by SpaceX.
For SpaceX, the partnership with T-Mobile represents a significant expansion of its business beyond the traditional satellite launch market. By partnering with a major wireless carrier, SpaceX has the potential to reach a much larger customer base and generate significant revenue from its Starlink satellite network. Both SpaceX and Starlink, however, remain private players. Elon Musk said that an IPO of Starlink is still 3 or 4 years away as it needs to be "in a smooth sailing situation" with "good predictability" before it goes public. The base price of the internet service is $90-120 per month, and the company's most recent subscriber numbers suggest annual service revenue of more than $500mn a year at a valuation of ~$60-70bn (in January 2023, SpaceX raised 750mn at a $137bn valuation with many analysts attributing around half of that to Starlink).
Nevertheless, for listed T-Mobile, the partnership with SpaceX represents an opportunity to differentiate itself from other wireless carriers by providing a unique and innovative service to its customers without any "dead" spots common to cellular networks.
Catalysts
Increased demand for connectivity in remote areas. More demand for satellite communication services from rural and unserviced areas will accelerate service adoption and drive revenue for years ahead.

Telecom operators include satellite-based services to differentiate. Should other companies follow the example of T-Mobile, the sector growth will jump on a much higher growth path.

Lower satellite launch costs. Decreasing launch costs would allow for faster satellite constellation deployment, improving communication services and driving adoption.
Risks
Deployment costs slow adoption. Expensive deployment and maintenance of satellite-based systems may hinder the development of sat-to-phone communications.

Higher costs passed to consumers. Should the classic devices upgraded with a satellite connectivity have higher costs than the perceived utility, customers may not adopt the technology.

Stringent regulation. Should the regulation impose restrictions on the number of satellites due to the risk of space debris, the worsened quality and higher costs of the service may slow down adoption.
Companies mentioned in this article
AST SpaceMobile (ASTS); Amazon (AMZN); Apple (AAPL); GlobalStar (GSAT); Iridium (IRDM); OneWeb (Not listed); Qualcomm (QCOM); SpaceX (Not listed); Starlink (Not listed); T-Mobile (TMUS)
Back to all articles
Explore:
Disclaimer
This report has been produced by the organizational unit responsible for investment research (Research unit) of atonra Partners and sent to you by the company sales representatives.
As an internationally active company, atonra Partners SA may be subject to a number of provisions in drawing up and distributing its investment research documents. These regulations include the Directives on the Independence of Financial Research issued by the Swiss Bankers Association. Although atonra Partners SA believes that the information provided in this document is based on reliable sources, it cannot assume responsibility for the quality, correctness, timeliness or completeness of the information contained in this report.
The information contained in these publications is exclusively intended for a client base consisting of professionals or qualified investors. It is sent to you by way of information and cannot be divulged to a third party without the prior consent of atonra Partners. While all reasonable effort has been made to ensure that the information contained is not untrue or misleading at the time of publication, no representation is made as to its accuracy or completeness and it should not be relied upon as such.
Past performance is not indicative or a guarantee of future results. Investment losses may occur, and investors could lose some or all of their investment. Any indices cited herein are provided only as examples of general market performance and no index is directly comparable to the past or future performance of the Certificate.
It should not be assumed that the Certificate will invest in any specific securities that comprise any index, nor should it be understood to mean that there is a correlation between the Certificate's returns and any index returns.
Any material provided to you is intended only for discussion purposes and is not intended as an offer or solicitation with respect to the purchase or sale of any security and should not be relied upon by you in evaluating the merits of investing inany securities.
Contact