Mid-year review 2023 - Security & Space: Growing beyond the atmosphere
The first half of 2023 has witnessed remarkable news and advancements in space communications and AI technologies, setting the stage for a significant performance. After facing challenges in 2022 due to hyped growth expectations and high valuations, security and space players are regaining the spotlight with strengthening fundamentals, soaring demand, and unyielding government support.
Bottom line
In the security and space industry, all growth signals are go as December's high hopes for a stellar 2023 come to fruition. The first half of 2023 has been marked by an overwhelmingly positive stream of news, further solidifying the long-term investment outlook for the entire industry. The sector is experiencing relentless demand and upwardly revised guidance, propelled by favorable regulations and a wave of innovation. With such promising developments, we have every reason to believe that amid economic uncertainties, 2023 will continue to be a significant year for our strategy.
Table of Contents
Portfolio Snapshot
Security & Space Overview
Cybersecurity
Space applications
Commercial space
Space infrastructure
Defense
People, buildings & goods security
Testing, inspection & certification
Year favourites 2023 – An update
Catalysts/Risks
Portfolio Snapshot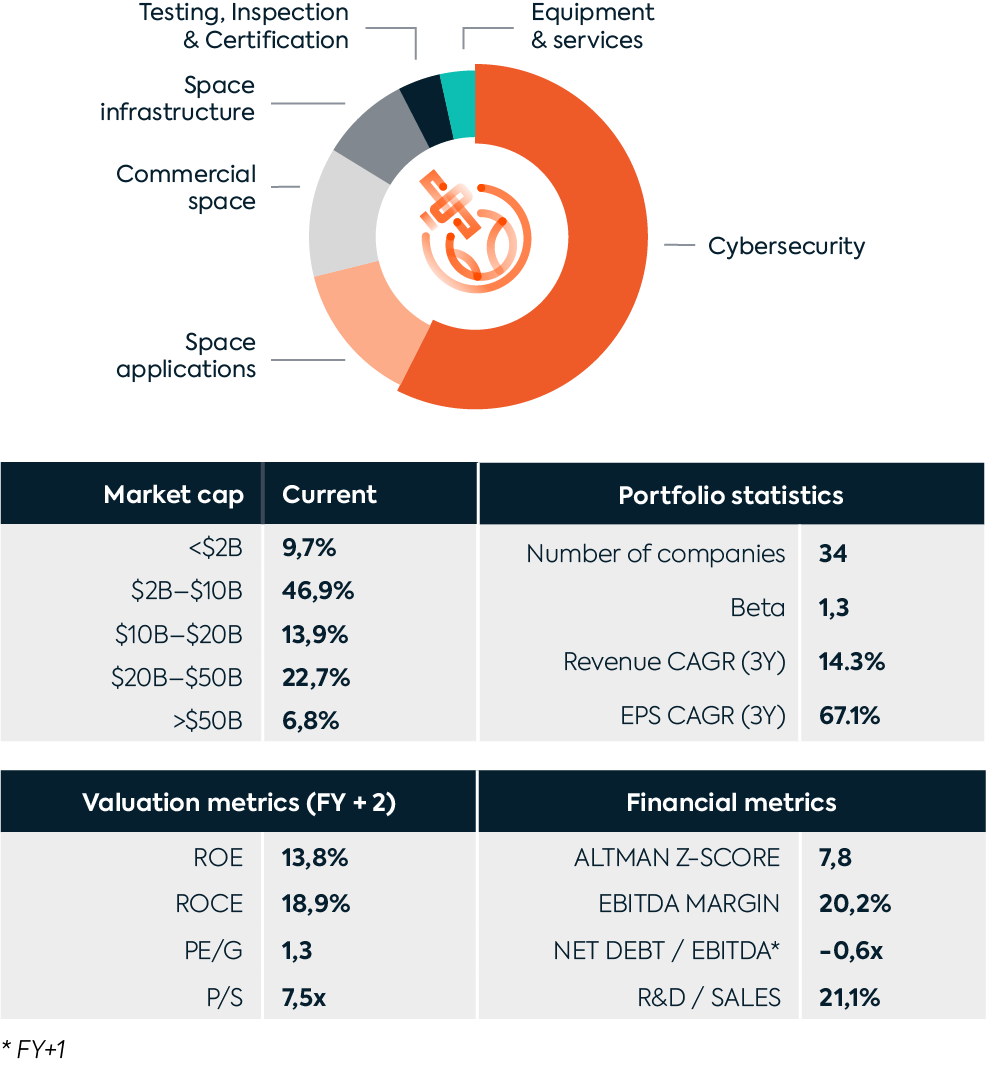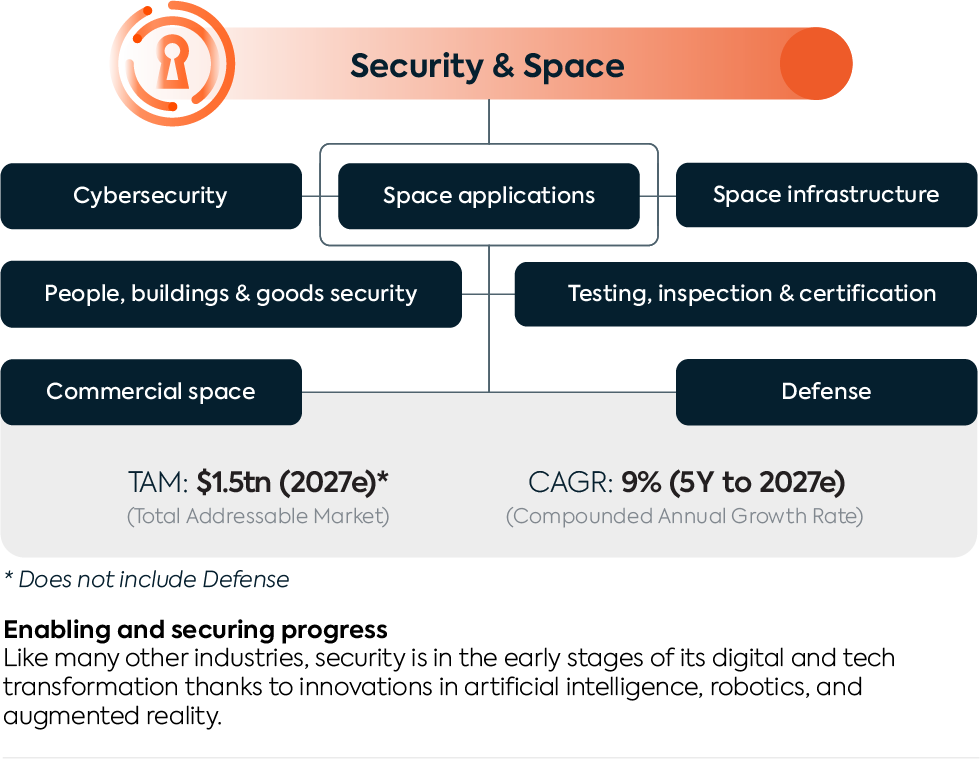 Growing beyond the atmosphere
Unleashing digital armors in a rapidly evolving landscape
The performance of cybersecurity in the first half of the year was particularly strong, finally reflecting the sound fundamentals we covered in our annual outlook and the dedicated cybersecurity series. The vital role played by the sector and a mostly favorable earnings season (a majority of positive surprises and guidance upgrades, with only some rare hints of customer spending slowdown) put cybersecurity on a path to a strong rebound. Moreover, the Biden administration continues to be supportive of the sector, announcing plans for new laws to establish liability for companies that sell technology that lacks cybersecurity protections. Also, the US federal FY24 budget called for cybersecurity spending acceleration in the zero-trust segment.
As businesses continue transitioning to the cloud and zero-trust frameworks, cybersecurity remains on their "necessary spending lists." We, therefore, continue to consider cybersecurity indispensable in a rapidly digitizing world and keep significant exposure to digital security, particularly cloud and network security. We also remain confident that stocks geared purely toward B2B activities are more resilient in the current macroeconomic conditions.
Space sectors are riding the stellar growth momentum
In December, we wrote that "the momentum for telecom constellations is all but slowing down," and telecom providers indeed delivered, as the entire commercial space sector strongly benefitted from a wave of announcements in direct satellite-to-phone connectivity. Promising stellar growth potential, companies successfully made the first call with the smartphone over the satellite. In the space applications sector, the need for earth observation and intelligence has clearly picked up since the Russian invasion of Ukraine, with some space application companies doubling their guidance for the quarters and the year ahead.
However, it is the space infrastructure sector that we paid particular attention to, expecting to see the maiden launches of Relativity and ABL, the test launch of Starship by SpaceX, and waiting for Firefly and Virgin Orbit (bankrupt) to ramp up their commercial activities. However, the Relativity launch failed without even reaching orbit, and after Virgin Orbit's failure (advertised as "historical," the launch ended due to a problem with the second stage) and its eventual bankruptcy, only the Starship rocket by SpaceX somewhat delivered positive news in April. After a successful test, Elon Musk expects Starship to fly again in as few as two or three months.
Firefly has announced the acquisition of Spaceflight, which goes in the way of becoming an integrated end-to-end launch services provider, making them potential competitors of Rocket Lab (although their partnership with Northrop Grumman could slow things down by infusing "old space" corporate culture as it happened with Blue Origin ). Despite some setbacks in the sector and potential competitive pressure from Firefly, we remain confident in our top conviction stock and this year's Year Favorite Rocket Lab. Meanwhile, we continue to closely monitor the financial landscape as the balance sheets of early-stage players continue to be impacted by tighter financing conditions.
The convergence between security and space has never been stronger
Despite investors favoring traditional defense players for their resilient financial nature and the prevailing global circumstance in 2022, we continue to anticipate a departure from the conventional war-centric focus as digital security and pioneering space companies take center stage. Indeed, early this year, Ukraine was hit with new wiper malware, reportedly by Sandworm, a nation-state group linked to the military unit of GRU of the Russian Federation. The malware overwrites data by using random sequences, rendering data useless. Not surprisingly, this January, World Economic Forum agreed that geopolitical instability has significantly raised the threat of"catastrophic cyberattack in the next two years."
We also see accelerated convergence between space and security. In 2022, a Russian cyber attack on Ukrainian military routers highlighted the significance of satellite communications in warfare, impacting Viasat customers in multiple countries. In 2023, China took it a step further, presumably developing advanced cyber weapons to render enemy satellites useless during wartime, aiming to disrupt communications and surveillance. These cyber capabilities surpass Russia's actions in Ukraine. By mimicking satellite signals, China seeks to take complete control or cause malfunctions in crucial combat situations. Overall, China aggressively pursues counter-space capabilities to become a leading power beyond Earth's atmosphere by 2045 and is massively investing in both the space and cybersecurity sectors.
Finally, the looming risks of natural and human-made catastrophes, such as floods, fires, and earthquakes, compound the need for comprehensive security and analytics frameworks, strengthening convergence between security and space, notably the cybersecurity and Earth observation sectors.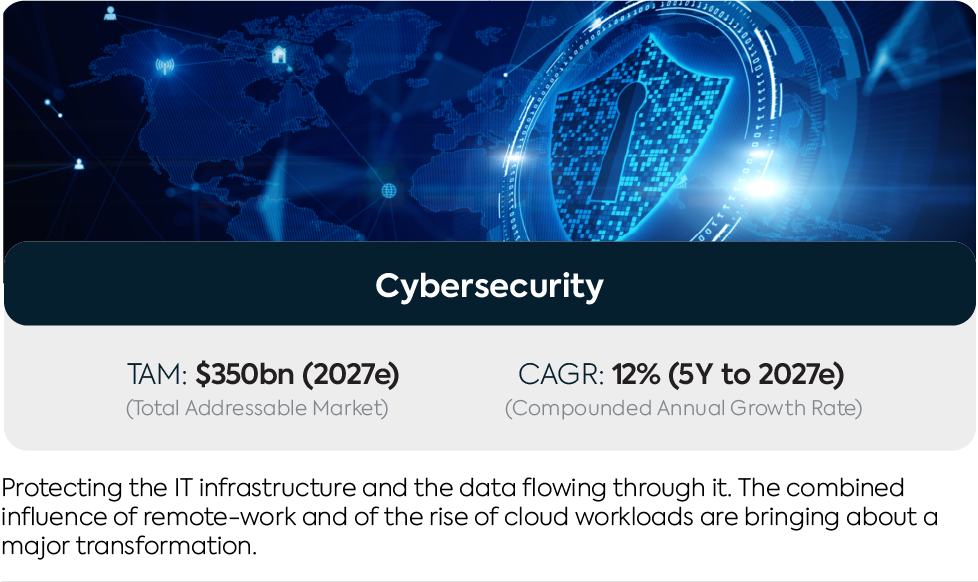 Cybersecurity momentum is gaining pace
Cloud security: an essential umbrella for rainy days
As we venture through 2023, the world continues its rapid shift toward cloud computing. However, the inherent nature of cloud storage, where data remains preserved indefinitely, underscores the critical importance of cybersecurity. With data volumes growing exponentially and becoming increasingly complex, the cybersecurity industry must rise to the challenge of safeguarding this invaluable asset. Already in May, T-Mobile disclosed its 2nd data breach of 2023 (its ninth since 2018), affecting 836 subscribers, which lasted for more than a month before it was discovered.
Cloud and saturation attacks (Distributed Denial-of-Service, or DDoS, Attacks) always come hand in hand, and the last 6 months were no exception. In May, the FBI seized 13 DDoS-for-hire platforms in an ongoing international crackdown. The individuals behind these unauthorized service platforms enabled website administrators to assess the strength and stability of their infrastructure. However, these platforms were commonly used by individuals seeking revenge against disliked sites or engaging in activities such as extortion, bribery, and corruption.
The financial impact of cyberattacks further emphasizes the indispensability of cybersecurity. The average cost of a cyberattack to a U.S. company approaches $10mn, not accounting for the significant reputational damage that follows. Alarmingly, hiring a hacker on the darknet can cost less than $1,000, and a basic attack code may be written by ChatGPT, highlighting the accessibility of cyber threats. In light of these risks, organizations cannot afford to overlook the importance of investing in robust cyber defense strategies.
Zero-Trust revolutionizes security for a resilient future
Amid the escalating threat of ransomware attacks plaguing modern digital ecosystems, companies are swiftly adopting the zero-trust framework as the new paradigm for cybersecurity. With a staggering 52% year-on-year increase in ransomware attacks, it has become evident that the traditional "moat-and-castle" approach is no longer sufficient in securing the software supply chain and mitigating operational, financial, and reputational risks. Zero-trust, with its foundational principle of distrusting everything and everyone, has emerged as a powerful pest control solution.
We believe 2023 will continue to see the rapid adoption of the zero-trust framework as more enterprises recognize that zero-trust offers a more fitting framework to bolster their cyber defenses. Improving macro conditions should further convince small and medium-sized enterprises (SMEs) to replace the outdated security models and embrace this paradigm shift.
Regulatory drive fortifies demand
Governments worldwide are recognizing the urgent need to fortify their digital defenses and are actively investing in and accompanying the cybersecurity sector with favorable regulatory measures. Companies faced with stringent regulations have no choice but to upgrade their systems to comply with the new standards.
The financial impact of cybercrime is staggering, with ransomware attacks estimated to cost around €20bn globally and the overall cost of cybercrime reaching €5.5tn. In response, the Biden administration once again proposed a law to hold firms accountable, and then the FY24 US Federal cybersecurity budget calls for accelerated spend. More precisely, a 14% year-on-year growth, compared to the 12% growth observed in FY23. The budget also emphasizes the significance of cybersecurity modernization and provides clearer quantification of the Zero Trust initiative ($366Mm of the FY24 framework spending will be dedicated to Zero Trust).
With the recent establishment of the "National Cybersecurity Strategy," we are optimistic about the momentum of federal deals for cybersecurity vendors in the next six months. Additionally, the European Union's Cyber Resilience Act Initiative, working in conjunction with existing legislation such as the Cybersecurity Act, aims to bridge gaps in the regulatory framework and drive infrastructure upgrades. Moreover, major bigtechs demonstrate their commitment to cybersecurity by pledging billions in investments, and cybersecurity firms themselves are undergoing upgrades, incorporating advanced technologies to enhance automation, behavioral analytics, and reduce operational costs.
These advancements are driving margin expansion and contributing to the overall growth of the cybersecurity sector, which, coupled with substantial public and private investment plans, is set to benefit from a massive spending supercycle.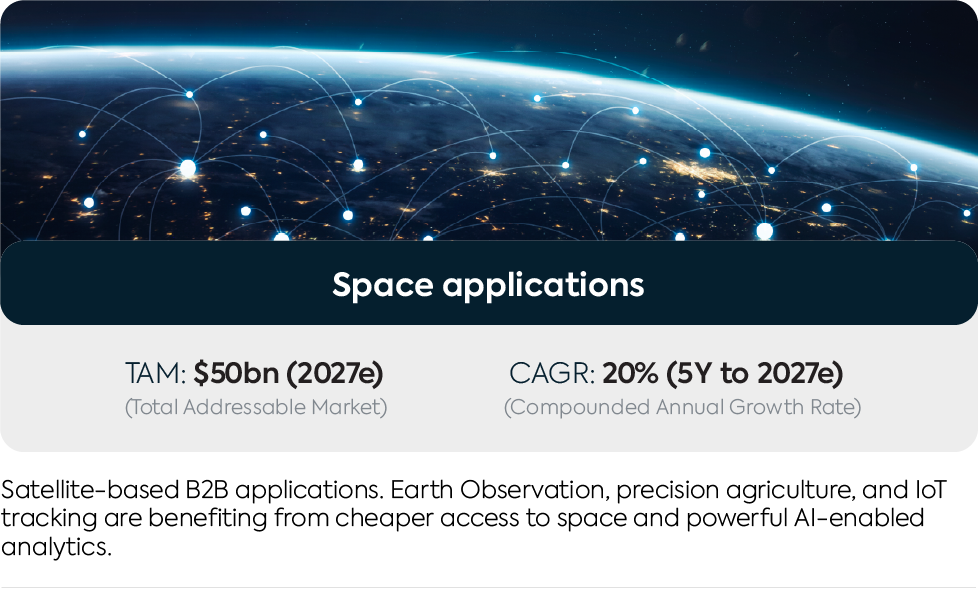 Earth observation players take center-stage
Revolutionizing imagery services
The need for Earth observation (EO) and intelligence is continuing to accelerate since the Russian invasion of Ukraine, with some companies, such as Planet Labs, reporting 43% YoY growth in March and some doubling their guidance. The Ukrainian conflict served as a watershed moment, highlighting the indispensable role of commercial imagery data in providing crucial situational awareness.
We anticipate further contracts and collaborations that will fuel the development of this sector, with the military benefiting initially but the ultimate winner being the civilian world.
Empowering data platforms
The space applications sector has faced challenges in harnessing the full potential of the vast amounts of data collected. The complexity of extracting valuable insights has hindered its growth. However, recent technological advancements in AI and the rapid renewal of satellite constellations are set to overcome these barriers and unlock new opportunities.
We believe the future of space data processing lies in the ability to analyze information directly in space, eliminating the need to transmit all data back to Earth for analysis and leading to faster data processing and enhanced analytics capabilities. As a result, space-based analytics can provide near real-time insights, enabling timely decision-making and increasing the value of space data.
Platforms like Blacksky are integrating diverse data sources within a unified framework, providing on-demand insights powered by AI. Furthermore, we believe the future of the sector is in the emergence of "Imagery-as-a-Service" models that are revolutionizing the space applications sector. With this model, users can access and utilize space-based imagery and data without the need for significant infrastructure investments.
Confronting climate challenges
The year 2022 underscored the urgency of addressing the rapidly changing climate and its profound impact on both ecosystems and economies, and 2023 is no exception. Earth Observation technologies offer crucial tools for monitoring, studying, and mitigating the effects of climate catastrophes. The European Union, in response to citizens' demands, has made climate monitoring a top priority for the European Space Agency, while other nations and institutions are also recognizing the strategic importance of this issue. Commercial players are poised to seize emerging opportunities in this field. This convergence of climate concerns and strategic imperatives is expected to further drive the growth of the space applications sector.
Additionally, technological advancements, including improved sensors, radio, and radar technologies, are rapidly advancing the capabilities of the sector. The fight against climate change, with its escalating threats, presents a compelling opportunity for space applications to enjoy high growth in this uniquely transformative period.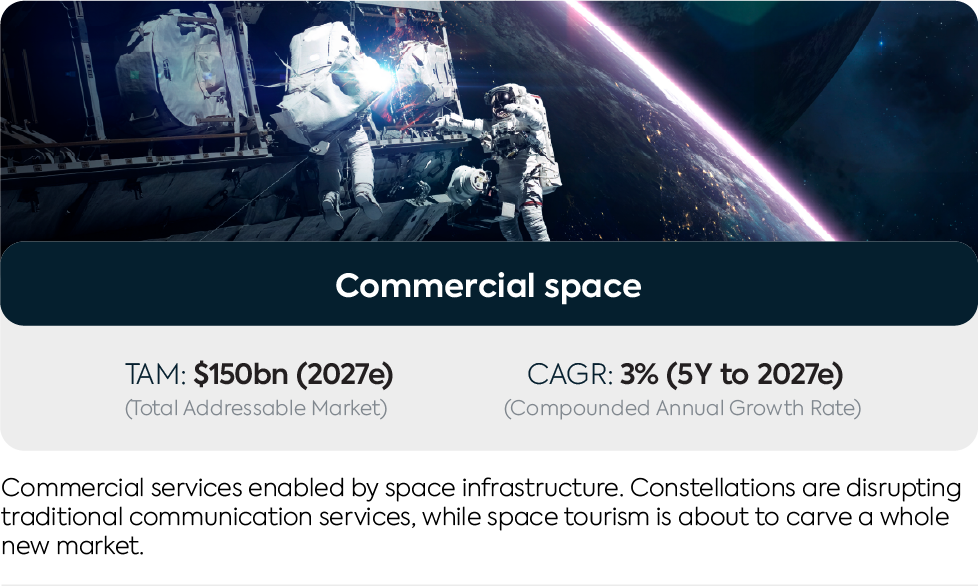 Fostering connectivity through constellations
An unstoppable momentum for telecom constellations
The momentum driving telecom constellations shows no signs of waning and is expected to propel the sector for years to come. Last year, satellite-to-smartphone connectivity took tentative steps forward, evident in Apple's latest iPhone, which incorporates an SOS mode via satellite. However, limited satellite infrastructure currently restricts the provision of high-speed internet for modern usage. The situation is not anticipated to undergo a fundamental change until late 2023, when the partnership between T-Mobile and SpaceX (already valued at $137bn) will enable cellular coverage across U.S. territories, offering a glimpse of what lies ahead. Moreover, Qualcomm and Iridium announced their entrance into the satellite-to-mobile phone market in early January, planning to join forces to bring satellite messaging to Android phones. We consider this a clear win for Iridium, as Apple Inc is relying on Globalstar for its own similar service.
The first standalone voice call tests are already happening. In April, AST SpaceMobile established the first voice communication to a normal, unmodified smartphone. This was the first time anyone has ever achieved a direct voice connection from space to everyday cellular devices. The true transformation will occur when AST SpaceMobile's constellation becomes fully operational in 2024, provided there are no further delays. This groundbreaking development will deliver broadband speeds to smartphones through satellites equipped with 64-square-meter antennae.
Player-wise, the undeniable advantages exhibited by SpaceX's Starlink on the Ukrainian battlefield reaffirm the technology's superiority. The company is making progress in the financial stability of the business, and after launching 3'500 satellites, Starlink was servicing 1mn subscribers in December, with the CEO expecting Starlink to become profitable this year. On the other hand, Amazon's Kuiper entered the market later but has secured the largest launch contract to date. In March, Amazon showed off new satellite internet antennas and promised to offer a standard, ultra-compact, and pro version of its antennas, with speeds ranging from about 100 megabits per second to as much as 1 gigabit per second. While business models may still be evolving, the utility of telecom constellations is unequivocal.
Overall, the satellite communication market is undergoing a massive evolution with the arrival of direct smartphone-to-satellite connectivity. Tremendous growth opportunities that have not been seen since the arrival of GPS will arise for the first movers in this space.
A race for supremacy in suborbital tourism
In the battle for suborbital tourism, Blue Origin has emerged as the victor, displaying commendable execution in adhering to its launch schedule. Last year, Virgin Galactic postponed its commercial flights to 2023, which investors did not take lightly. Paradoxically, the delay proved beneficial for Virgin Galactic, allowing the company to upgrade its fleet and set the stage for a fresh start. After a series of successful tests in the past three months, the company announced full-scale commercial operations by the end of June, which should start bringing in much-needed cash flow. Speaking of cash flow generation, both Blue Origin and Virgin Galactic are still facing financial challenges and are in search of a path to profitability, which may remain elusive until consistent service can be established.
Orbital milestones
Space tourism has only just taken its first steps, but some companies, such as Axiom, are already pioneering the first fully private missions to the International Space Station (ISS). SpaceX's Dragon capsules are poised to launch numerous orbital missions, including the inaugural extravehicular activity conducted by a civilian astronaut. NASA is working on its SLS rocket for the Moon Mission. However, attention is now shifting to the development of commercial space stations. Tensions between Russia and the United States concerning the ISS are likely to accelerate the progress of commercial space stations as government resources are reallocated. With the construction and testing phase gaining momentum, the launch of the first modules is anticipated for 2024.
Harnessing the power of moon energy
In 2019 we already wrote that the Moon is believed to have abundant resources of helium-3 (He-3) thanks to its lack of magnetosphere. This isotope may be used as a fuel of choice in future fusion reactors, although the technology has yet to be proven. With Lunar He-3 resources estimated at up to 1mn ton (100 tons would be enough to power the entire Earth for a year), the first commercial fusion is not expected before at least 2050.
However, Blue Origin recently found another use for Lunar resources - Solar panels. And while the vision is ambitious, the technology is real now. In fact, Blue Origin has been working on producing solar cells and electricity transmission wires from simulated lunar soil for the last two years, and its engineers and scientists have taken the byproducts of the reaction to fabricate solar cells and protective glass covers. The company aims to market the technology to NASA for use in its Artemis program, which seeks to differentiate from the Apollo program by building infrastructure, enabling more extended stays on the Moon. For the curious, Blue Origin's "Blue Alchemist" program has developed a process to extract iron, silicon, and aluminum from the lunar regolith using electrolysis. The same electrolysis process could also be used to produce metals for building habitats and other structures, as well as oxygen.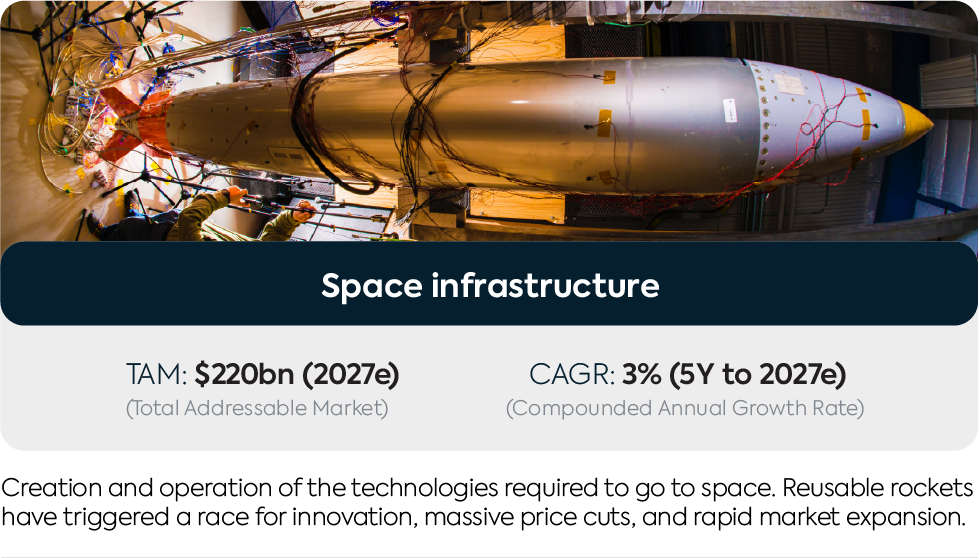 Letting the winners run amidst intensifying pressure
Competition and challenges in the small launchers market intensifying
In the first half of the year, the sector was penalized by the first major bankruptcy in the launch segment (Virgin Orbit), generating concerns over a domino effect due to tightening macro conditions coupled with a significant cash burn. But as UK's Virgin Orbit filed for bankruptcy, it relieved some pressure from the market and helped Rocket Lab to remain an established leader in space. Other competitors, Astra Space, in particular, is at risk of failing due to past execution issues. In the private equity space, SpaceX ended 2022 with a shattering record (successfully launched (and retrieved boosters) of 61 Falcon 9 vs. 31 the previous year), aiming at 100 launches in 2023.
The rise of new space players continues
The space industry is witnessing a shift in power dynamics as new players gain prominence. Despite NASA's recent rollout of the SLS launcher, concerns are growing regarding the skyrocketing development costs associated with this booster and its infrastructure. This has led to an increasing preference for fixed-cost contracts and cost discipline, providing an opportunity for more New Space companies to secure government contracts. In February, U.S. Space Systems Command issued a draft proposal, which entails significant changes expected in how the U.S. military procures launch services. It would allow contracting smaller players for missions that allow for higher risk tolerance. We consider this a significant development for new space companies. Notably, Rocket Lab will strengthen its status as SpaceX's runner-up, leading to promising business opportunities and reinforcing our conviction about its equity story.
With SpaceX's successful test launch of its Starship prototype and NASA's changing approach, we continue to anticipate a rise in the involvement of New Space players in the government sector. We are also looking forward to updates on the first private space stations, which are expected to start launching in 2025.
2023 introduces a duopoly in the U.S. heavy launch sector
The space market has undergone a significant shift following Russia's exclusion from the commercial launch market, previously dominated by their Soyuz workhorse. While 2023 may not bring transformational changes, the groundwork for the future has started to slowly take shape. The highly anticipated first flight of SpaceX's Starship holds immense importance, promising a substantial leap forward in pricing, while NASA's SLS is aiming for the Moon.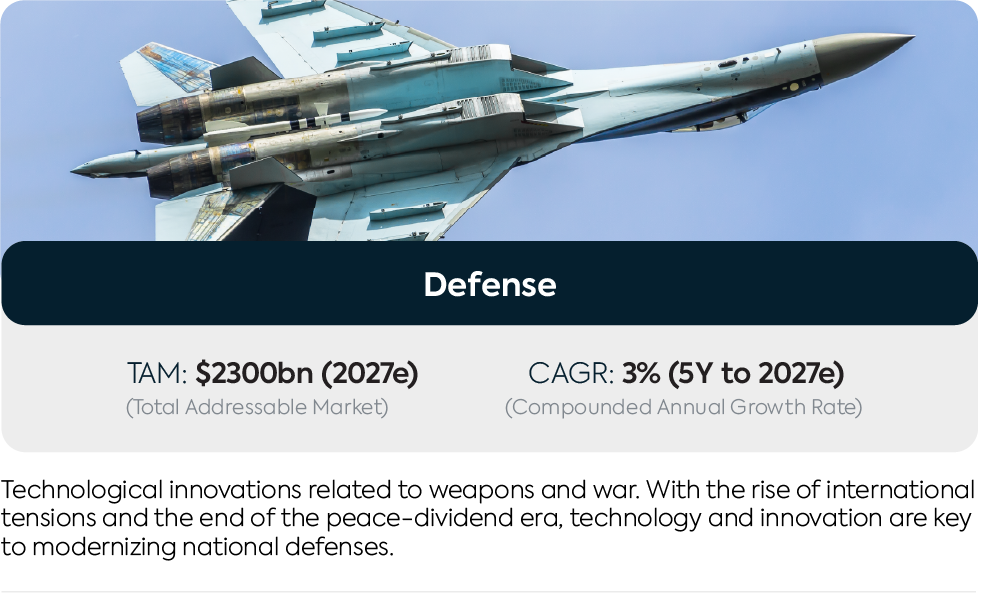 The return of turmoil as the world spirals off course
Growing international tensions and increasing defense budgets
The concept of world peace has become increasingly fragile, as demonstrated by the Russian-Ukrainian conflict that erupted in 2022 and is still ongoing with waves of escalation. With tensions rising in regions such as China, Taiwan, the Middle East, and Eastern Europe, the number of unstable areas continues to grow. In response to these challenges, global defense budgets are on the rise.
For instance, the Fiscal Year 2023 budget request from the U.S. Department of Defense has seen a 4.1% year-on-year increase, and we believe the trajectory is significantly upward sloping. Even countries that previously hesitated to allocate significant funds to defense are now urgently considering the renewal of their Cold War-era equipment and revitalizing their military capabilities after years of underinvestment.
The unavoidable digitalization of legacy defense infrastructure
While acknowledging the significance of the defense sector and its substantial investments in research and development (R&D), we firmly believe that the industry is at a juncture where it must augment its commitment to the digital world. As the military landscape evolves, legacy defense infrastructure is being phased out, and new armament programs are increasingly reliant on software, computational power, and high-speed data links. The Russian-Ukrainian conflict has highlighted the critical role of AI, Earth observation, and advanced analytics in modern warfare.
To gain a competitive edge, military forces will continue upgrading and integrating their capabilities across various domains, from space to ground, while ensuring connectivity to the global network and implementing robust cybersecurity measures. This shift towards digitalization and modernization is expected to drive a significant global renewal spree in the defense sector.
Facing ESG pressure
With the rise of Environmental, Social, and Governance (ESG) investing, defense stocks face challenges in finding acceptance in investor portfolios. This could potentially exert additional pressure on the sector, even at a time characterized by positive financial outlooks. Despite defense stocks serving as a defensive cushion for investors last year, the first half of the year found defense stocks trailing their more modern and faster-growing counterparts.
Ensuring safety each step of your way
Heightened responsibility results in a higher demand for certification
By upholding safety, quality, and sustainability, the Testing, Inspection & Certification (TIC) sector contributes to building trust and confidence in various industries, ultimately benefiting consumers, governments, and investors alike. Populations are becoming more conscious of their impact on the environment. Governments are becoming more stringent with regulations. Label proliferation is evident as everyone demands "clean" or "tested" labels. With an increasing push from governments to guarantee sustainability, companies must prove their durability and high standards through certification. Moreover, populations require significant assurances when using new tech, and it is up to governments to guarantee a certain degree of safety through rigorous testing and subsequent certification.
Untangling the complex food supply chain
The food industry is a target for criminals engaging in food fraud, which amounts to a staggering $50bn annually. Sanitary scandals highlight the crucial role of regular TIC in ensuring food safety. As criminals become more sophisticated, comprehensive traceability measures have become a necessity for the industry. Incidents like the misrepresentation of "organic" grain and the smuggling of seafood emphasize the need for governments to enforce rigorous testing to guarantee a certain level of safety in the food industry.
We believe that for 2023 and beyond, food safety will remain a significant concern for all stakeholders. As food production becomes more industrialized and processed, we expect the volume of food testing to increase, necessitating significant investments in the TIC sector. Companies like Neogen, a provider of food testing kits, see significant demand for its products and continue offering massive innovations, such as introducing new assays for natural toxin detection designed for use in high-output situations. Certified for corn and wheat commodities, these special test assays can find a harmful substance called aflatoxin that is made by some molds. It can check grain products and give accurate results in just a few minutes.
ESG proliferation to drive the sector
With a heightened focus on sustainability and ESG considerations, companies are under increasing pressure to demonstrate their commitment to environmental responsibility. Consumers demand transparency through clean labels, and governments are implementing green initiatives to address environmental concerns. Additionally, investors are seeking sustainable investments and often require companies to report ESG metrics to enter their portfolios. The TIC industry becomes instrumental in measuring and assessing environmental impacts, adding another revenue stream and driving the demand for certification services.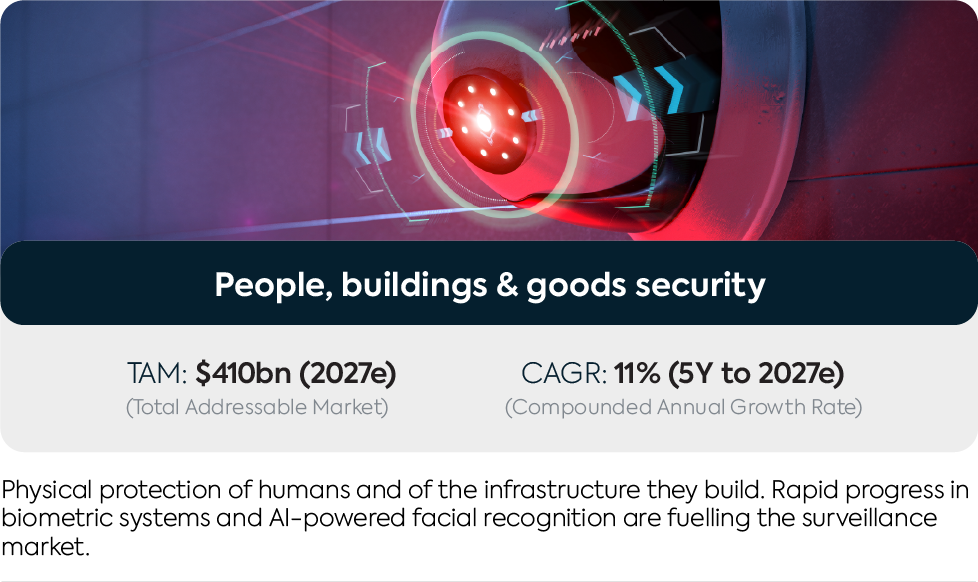 The sense of safety has always been elusive, now more than ever
Artificial Intelligence revolutionizing security industries
Well-established security industries, such as airport security, home security, infrastructure security, and bank security, are undergoing a transformative phase by incorporating artificial intelligence (AI) and new algorithms into their operations. These industries, which have long relied on legacy hardware, are experiencing a rejuvenation as they embrace AI technologies. For instance, integrating AI with security systems and popular AI assistants has made it increasingly compelling for customers to invest in improving their security sentiment. The integration of machine learning and AI enables security automation, real-time threat analysis, and more accurate results. This not only enhances the quality of security measures but also drives significant margin expansion, boosting overall sector growth.
The growing demand for traceability and enhanced security
In this turbulent world, individuals yearn for heightened security, even if it entails some trade-offs in personal freedoms. Not surprisingly, the installation of surveillance cameras is projected to surpass a staggering one billion in 2023. Furthermore, the aging population, seeking tranquility and peace of mind, gravitates toward smart-home security that bolster their safety. As the global population continues to grow and climate change poses new challenges, the world is becoming a more dangerous place to live. To ensure public order and global survival, critical event management, smart security solutions, and video surveillance are among the most vital segments in the overall security sector and are attracting significant investments.
Moreover, as our vehicles become more intelligent and digitized, they also attract hackers' attention. The rise of autonomous vehicles, a growing collaboration between automakers and cybersecurity experts, and the adoption of new technologies, e.g., blockchain, are among the major drivers for the sector. However, companies focused on developing and implementing automotive cybersecurity solutions remain mostly private, but car manufacturers are also investing heavily in developing secure systems and protocols. We believe the market will start seeing more public players in the near future.
Smart solutions for a greener and safer world
The increasing emphasis on climate protection and carbon emissions control is expected to drive the growth of the people, buildings, and goods sector. Smart home sensors, HVAC systems, and other automated solutions are becoming commonplace, allowing individuals to conserve energy and reduce their environmental footprint. Governments are also playing a crucial role by implementing smart grids and developing smart cities that prioritize energy efficiency and provide advanced security measures for people and infrastructure. This convergence of smart and automated solutions not only promotes a greener world but saves money on multiple fronts. We believe that the intersection of technology, security, and sustainability will shape the future of this sector, ensuring safer and more resilient communities worldwide.
Year's Favourites 2023 - An update
Okta
(OKTA US)
The one-stop identity shop is not stopping
Back in December, when the market was afraid of Okta, a leading provider of identity and access management (IAM) solutions, burning too much cash and slowing revenue growth due to its acquisition of Auth0, we had full trust in their strategy. We expected a short-term catalyst to come from the first indication of the successful integration, which should have considerably boosted the stock and further strengthened the investment case. Indeed the company delivered and doubled its earnings guidance for the year (while simultaneously topping estimates by a wide margin). CEO Todd McKinnon, a company co-founder, said the outlook was based on the company's "mission critical" products and how Okta is working on its customer retention (>95%). Finally, Okta has "generally happy customers," and as cloud-software vendors face budget-constrained customers, they choose Okta.
Overall, despite some slowing down in the new client growth in the first quarter (small and midsize businesses are not buying as much as expected due to macroeconomic factors), we remain persuaded that Okta will still benefit from overcoming its Auth0 integration struggles. In fact, during the recent earnings announcement, Okta reconfirmed its focus on profitability, cash flow generation, and sales productivity improvements as Auth0 integration was finalized. The company also announced a restructuring plan (a 5% cut to its workforce which remains fairly reasonable in size, coming on the back of a hiring spree during the pandemic). Other integrations, such as with Zoom (authenticated Zoom attendees will get a blue shield icon next to their participant name to give enterprises additional security during sensitive meetings), further strengthen Okta's customer base. The company is simply best positioned to benefit from the surging demand for identification, as it helps reduce the IT complexity of managing multiple passwords and accounts of clients and employees.
Crowdstrike
(CRWD US)

Reference in endpoint protection captures burgeoning demand for endpoint security
Falcon, the flagship modular platform of Crowdstike, continues to protect companies from massive financial and reputational losses, successfully capturing the increasing demand for endpoint security and EDR (endpoint detection response). After the first half of the year, we can only reiterate our strong conviction in the company and big expectations for 2023 as the company has announced new products, platform consolidation, signed new customers, and improved profitability. The company has clocked >120% client retention and 50% YoY deal growth and added a middleman Pax8 to sell its products (potentially adding over 400K SMB customers). Despite harsh macro conditions and overall "softer enterprise spending," Crowdstrike has managed to beat revenue, EPS, and FCF expectations, with Net New Annual Recurring Revenue being only at -9% YoY (below expectations but better than guidance), which we believe is a rather good sign in the current macro environment. In our opinion, the progress toward better profitability and cash flow generation more than makes up for the softer ARR.
Additionally, on the news side, Crowdstrike announced a partnership with AWS to develop new generative AI applications. This partnership includes new initiatives such as Charlotte AI, a new generative AI cybersecurity platform that helps users close Cybersecurity skills gaps and speed response times. Moreover, Crowdstrike advanced the use of AI to predict adversary behavior (new AI-powered indicators of attack (IoA) models will be available later this year). This will help combat increasingly sophisticated attacks, solve hyper-scale data challenges, and automate repetitive security tasks, attracting even more clients and solidifying growth. Finally, Crowdstrike expanded its platform to deliver endpoint detection to IoT assets (XIoT is a category to describe all cyber-physical devices connected to the internet), which should further attract customers from the industrial, healthcare, and commercial environments.
We remain persuaded that Crowdstrike will remain the standard of worldwide corporate endpoint security, further confirmed by the IDC's most recent report, where CrowdStrike's market share took the top position among all vendors.
Rocket Lab
(RKLB US)
Capturing massive opportunities as a space provider
In December, we expected 2023 to be marked by Rocket Lab's continuing development and testing of its reusable Neutron rocket and improved catching of its existing Electron rocket for further reuse and cost efficiency. The company has surprised us even more. Rocket Lab has announced they would fly again an engine previously used on another mission. This is significant, as reuse is the only option to bring down costs. Following the successful completion of qualification tests, the company will evaluate the potential for complete booster reuse for the next flight. If successful, this would pave the way for full reuse at a much lower cost than originally planned, as mid-air recovery would not be required anymore (the engine was previously supposed to be caught by a helicopter but was ultimately released and recovered from the ocean). We believe the general pivot to reusability and the recent news would propel Rocket Lab even faster to profitable high growth.
Concerning the Neutron project, CEO Peter Beck confirmed that the rocket is on track for 2024 (for now, the company is on an aggressive development schedule), and the TAM could be bigger than expected. The rocket targets commercial operators, but Rocket Lab hopes it will be able to compete for national security launches but for that, meeting the current requirements would mean developing a heavier version of the launcher (as a reminder, the Department of Defense invested $24mn in Neutron to develop the rocket's upper stage). Rocket Lab is also majoring on other fronts as an end-to-end space company, with the spacecraft they built for Varda successfully operating in orbit after a successful launch.
Catalysts
Government support and favorable regulation. Following President Biden's Executive Order on cybersecurity, additional bills such as "cyber responsibility" would be massive triggers for the industry and investments.

Successful launches. SpaceX's massive Starship rocket's 2nd launch test is expected in 2023, and it will be a critical event for the whole sector and an enormous push for the industry.

International tensions. Increased cross-border pressure would make people feel insecure, force governments to spend more on security, and invest more in space defense.
Risks
Tight funding. The theme's momentum could be easily disrupted by a challenging macroeconomic environment coupled with stringent regulations and escalating international tensions, which may limit public and private funding opportunities.

War escalation. While a moderate level of conflict would benefit the theme, an all-out war would probably mean significant destruction of communication infrastructure, including the "sterilization" of the LEO orbit.

Unmanageable cyberthreats. Modern cybersecurity solutions are constantly transitioning to newer and advanced encryption algorithms. The whole sector may collapse if existing cybersecurity measures and solutions prove unhelpful.
Back to all articles
Explore:
Disclaimer
This report has been produced by the organizational unit responsible for investment research (Research unit) of atonra Partners and sent to you by the company sales representatives.
As an internationally active company, atonra Partners SA may be subject to a number of provisions in drawing up and distributing its investment research documents. These regulations include the Directives on the Independence of Financial Research issued by the Swiss Bankers Association. Although atonra Partners SA believes that the information provided in this document is based on reliable sources, it cannot assume responsibility for the quality, correctness, timeliness or completeness of the information contained in this report.
The information contained in these publications is exclusively intended for a client base consisting of professionals or qualified investors. It is sent to you by way of information and cannot be divulged to a third party without the prior consent of atonra Partners. While all reasonable effort has been made to ensure that the information contained is not untrue or misleading at the time of publication, no representation is made as to its accuracy or completeness and it should not be relied upon as such.
Past performance is not indicative or a guarantee of future results. Investment losses may occur, and investors could lose some or all of their investment. Any indices cited herein are provided only as examples of general market performance and no index is directly comparable to the past or future performance of the Certificate.
It should not be assumed that the Certificate will invest in any specific securities that comprise any index, nor should it be understood to mean that there is a correlation between the Certificate's returns and any index returns.
Any material provided to you is intended only for discussion purposes and is not intended as an offer or solicitation with respect to the purchase or sale of any security and should not be relied upon by you in evaluating the merits of investing inany securities.
Contact